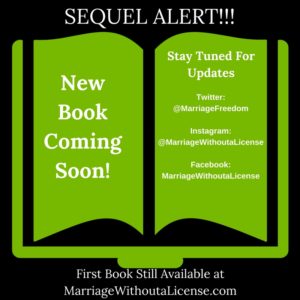 Thank you all for your support of the original book! The online reviews and private notes received by email have been encouraging, as well as inspiring to me. To hear that 'Marriage Without a License' has touched your lives and provided answers to questions you were searching for just confirms for me that this message is needed and that God has selected me as another person to deliver it. I am humbled and grateful.
I also want to let you know that a sequel is in progress and will be released in the spring of 2018!
Why Another Book?
While the first book tackles the biblical differences between civil marriages and non-civil ones, I do understand that there are certain legal concerns that accompany marriage without a license. Real-life concerns about assets, inheritance, healthcare, banking and credit, and more all have to be addressed in order for married couples to live full and secure lives without a marriage license. There are solutions though, which is why I'm working on a new book to help guide you in addressing your family's security.
Expert Opinions
I'm no estate planning expert, but I do know how to interview experts, ask questions and document suggestions and solutions for the benefit of others, which is precisely what you'll find in this book. Where the first book answers the question of why marriage without a license? The sequel will offer a roadmap on how to DO marriage without a license! So if you have questions about things like:
The proper way to own real estate with your spouse even when the government doesn't recognize your marriage
How to make medical decisions on your spouse's behalf if she or he becomes incapacitated
How to properly structure a will for your family's best benefit and interest
How to ensure a fair division of assets if your marriage falls apart
And much, much more!
… you'll love what's coming next!
Not Just For Christians
Please also note that while 'Marriage Without a License: A Completely Moral Alternative to Civil Marriage' was originally written for Christians, marrying without a license is of interest to people of all faiths and even those with no faith at all. Where the original book was filled with biblical discussions and scriptural receipts, this book will be a bit different in that regard. There are a few reasons for this:
The new book is meant to expand the discussion and to be inclusive of those who aren't Christian, but who also desire to marry without the government's approval or interference.
The sequel is also more technical in terms of discussing legal and financial matters.
And lastly, the original book was written specifically to shut the protests and judgments of Christians who do not understand marriage without a license down. Having already done so in the first book, it won't be necessary to debate biblical matters in the sequel.
Marriage Without a License Questions/Concerns?

They're all welcome here!
While this was just a short post to let you know what's coming next, I also have a favor to ask of everyone reading this. I want to make sure a diverse selection of topics are covered in the book, so I'd like to hear from each of you. Please send your questions, concerns and challenges with regard to the legal rights and benefits associated with civil marriage via the contact form on this site. I'll do my best to research the most important topics and make sure they're covered in the book.
Once again, thank you for your support of Marriage Without a Licence: A Completely Moral Alternative to Civil Marriage and please stay tuned for future announcements as the book progresses.